When you travel, you would like to be mobile in every situation. However, for small errands, day trips, or a leisurely excursion from the campsite into nature, driving with the entire van is not always the most practical solution. Then it is good to also have a bicycle or a scooter available to use. With their scooter or bicycle carriers for vans, the AL-KO brand SAWIKO facilitates the transportation of two-wheeled vehicles.
Create stowage space outside of the van
Larger camper vans often have a rear 'garage' where all kinds of two-wheelers can be stowed. Vans, on the other hand, are more compact and scarcely have any space on the inside for stowage.
Which is why SAWIKO offers the possibility of transporting additional means of travel on the outside of the van. The rear rack models are quickly and easily mounted on the back of your van. All of our carrier systems are designed to accommodate bicycles, e-bikes or scooters. Up to three bicycles or two e-bikes can be transported on one of our lighter bicycle racks for vans. If you would like to transport more bikes or take along a scooter, you need a more stable carrier system. Our SAWIKO brand scooter carrier for vans can carry a payload of 120 to 150 kilos.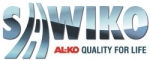 More information on our rear racks for van can be found here.