Our roots were planted in a small village smithy. The fact that a global corporation has emerged from these humble roots is also because we are constantly aware of what our identity represents and what values the company has always embodied: Quality, innovation in product and process as well as reliability and sustainability in our internal and external customer relations. That is the basis of our pursuit for sustainable growth and market leadership in our business divisions. Since 2016 we have made our contribution to the DexKo Group, the world's leading manufacturers of axles and chassis components in the lightweight segment.We are proud to continue in successfully shaping this development together with the DexKo group top management and our employees, and to convey our brand promise of quality, safety and comfort for our products and services to the world.
AL-KO Vehicle Technology
The name of AL-KO Vehicle Technology rightly applies as a synonym for safety on the roads. Whether motorhome, caravan, commercial vehicle or commercial trailer – as a reliable companion, our name stands for best possible driving safety and the highest levels of comfort. Not only in the leisure vehicle sector are we a byword to motorhome and caravan enthusiasts: With well-conceived lightweight chassis, chassis components as well as individual accessories, we guarantee a safe journey and enjoyment on your travels. With our premium solutions in the commercial vehicles and trailers segment, we also ensure the best ergonomics and safety during transport. We are one of the leading global axle suppliers in the lightweight weight range. "We carry what matters": Boat trailers, delivery vehicles, slope maintenance vehicles and many more. You can trust us with your loads. We provide the vehicle components and the accessories – the best basis for your tasks.

We love quality! We live quality!
And we have the right answer for virtually all transport requirements in our sector. Our way of differentiating products into "Basic", "Plus" and "Premium" provides each customer with the assurance of finding the AL-KO solution best suited to his individual requirements. AL-KO Vehicle Technology is safety and quality in one: from the product to delivery! With our strong brands, we are one of the designers of the mobile future. We want our customers to be satisfied and successful. Quality for life!
We're right where you need us
With more than 30 production sites and sales offices as well as roughly 1,000 service stations around the world, our network guarantees constant presence and personal contact. Our sophisticated logistics network around the entire globe optimises our flow of goods and guarantees a global presence 'just-in-time'. AL-KO quality and service is assured everywhere. You can count on that!
For when the best is expected
Research and development are firmly involved in the product creation process from the initial idea right through to production. The result: Innovative solutions that satisfy the most demanding requirements. In close coordination and collaboration with the state-of-the-art Testing Department, our engineers at the new Technology Centre push individual components, assemblies, and even finished products to the limit every day. We are proud of our customised, state-of-the-art testing facilities that enable the most stringent service life and wear tests in real application conditions. In our market environment, they offer unique opportunities for the testing of individual components and entire vehicles. Only what is assessed as flawless finally receives our "Quality for Life" award!
Innovation, that moves forward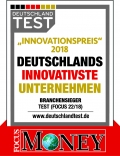 True to our principle "We are among the best in the market and are leaders in innovation", it has always been important for us to recognize the pulse of the times and to offer our customers that extra something. This is how our employees contribute daily to developing innovative ideas and supporting them right through to implementation. Only through these outstanding achievements is it possible for us to assert ourselves as a market leader and to look full of enthusiasm on a successful future. The study, commissioned by Focus Money and supported by the International School of Management in Dortmund, analyzed the 5,000 employee-strongest companies in 2018 and convinced us of our pioneering role in innovation activities, investments, research and development, product innovations and technology.

Anything but standard!
The AL-KO centre of expertise in
damping technology
is dedicated to the research, design and production of customer-specific solutions in the suspension system sector and coordinates the three production facilities across the globe. It provides shock absorbers for a wide variety of vehicle types, such as lorries, buses and passenger vehicles, as well as far solar modules or for the rail industry. The company is the market leader of pneumatic suspension systems in Europe and has a market share of 50% in the commercial vehicle sector.